Create the perfect play area


Whether you have a dedicated room or a corner of the living area, Kid of the Village has some tried and tested tips on how to create the perfect play area that is in keeping with your home décor and most importantly, prevents the mass of toys from invading Every. Single. Surface!

There are many ways to define a play space no matter where it is in the home. If your living room and playroom are one and the same, physical dividers can be a great way to define the spaces. A folding rattan screen can be stored away until the kids are in bed and then whipped out to hide a mess while entertaining. Alternatively, an Ikea kallax shelf can be used as a room divider while also allowing for storage space. Another way to define a play area from your living space is with colour. A different wall colour for the play area is a fun way to give the space it's own identity.

Another way is to use colour, not only to separate areas visually, but also to encourage calm and gentle play, as with the soft, light green from Lick (Green 01) in our own playroom. The science behind Colour Psychology says that you can encourage different moods and behaviours simply by using different colours, tones and shades. Evoke happiness with warm neutrals and yellows, use soft blues to relax and convey peace, and although you'd have to brave; purple is known to encourage creativity!


If the thought of decorating or painting a wall fills you with dread, artwork is a fantastic option to lend colour and inspiration. Educational prints such as our bestselling World Map and our Alphabet or Number prints look beautiful as well as helping to inspire and educate. You can even follow the seasons with our nature inspired prints or switch up artwork depending on your little one's interests and school curriculum topics. Include their own artwork on the walls to encourage creativity and show off their handiwork!


Another way to define space or inject colour is through flooring. These beautiful washable rugs from Scandiborn by Little Dutch are ideal. As are these non-toxic, easy to clean playmats from Gus & Beau that are not only durable but also help to prevent head bumps for smaller children.
Functional toy storage is an absolute must for any play area, no matter its size. The trusty Ikea Trofast storage combinations are so easy for children to reach (which means they can also tidy!) but also allow you to sort toys into categories and prevent the chaos of a whole toy box being emptied to find that one favourite dinosaur. We love these beautiful custom wooden storage discs from Flynn and Dot for labelling.




If space is at a premium and adding more furniture isn't an option, shelves and wall storage can be great for utilising space, displaying art, books and toys. Autumn's Corner have a beautiful selection, and the Flisat range from Ikea are always a go-to. Shelves with hooks and knobs are great for hanging toy bags for easy tidying, like these from Playpouch.
 



Pictures ledges are also a great way to to display artwork and utilise unused wall space, like these from Jysk.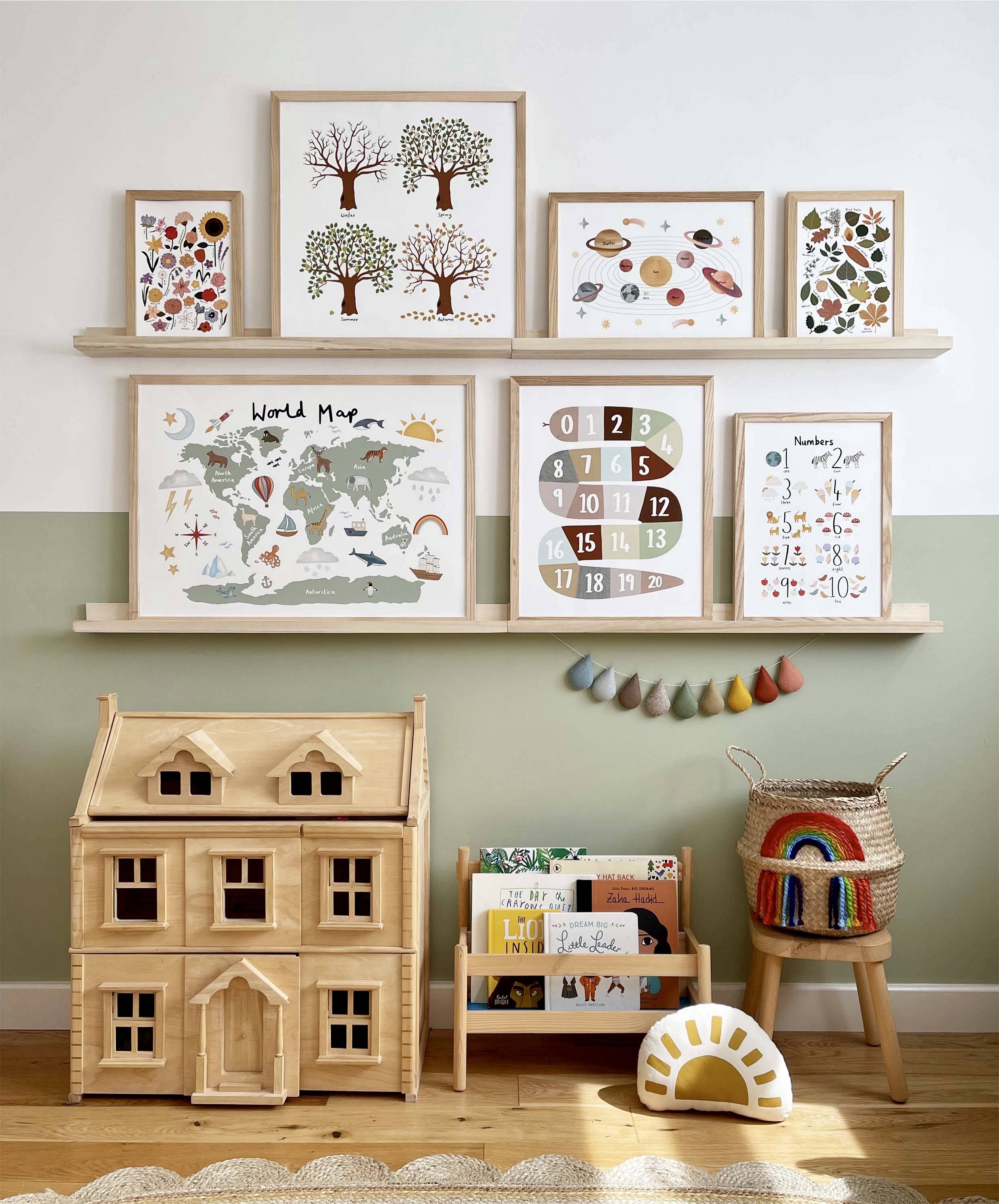 We can encourage certain types of play by making areas dedicated to a specific activity. For example, creating a reading corner using gentle lighting, soft cushions and allowing easy access to books with storage like a bookcase from Tidybooks will make reading a pleasure rather than a chore. If you really want to up the ante, creating a hideaway for children to disappear into is a guaranteed winner! Teepees, canopies and tents like these ones from Cabana Kids can keep children busy (& quiet!) for hours and make for great, private spaces for them to crawl into with a book or a puzzle.



Tidy Books Kids Wall Bookshelf
Cabana Kids Charlie Teepee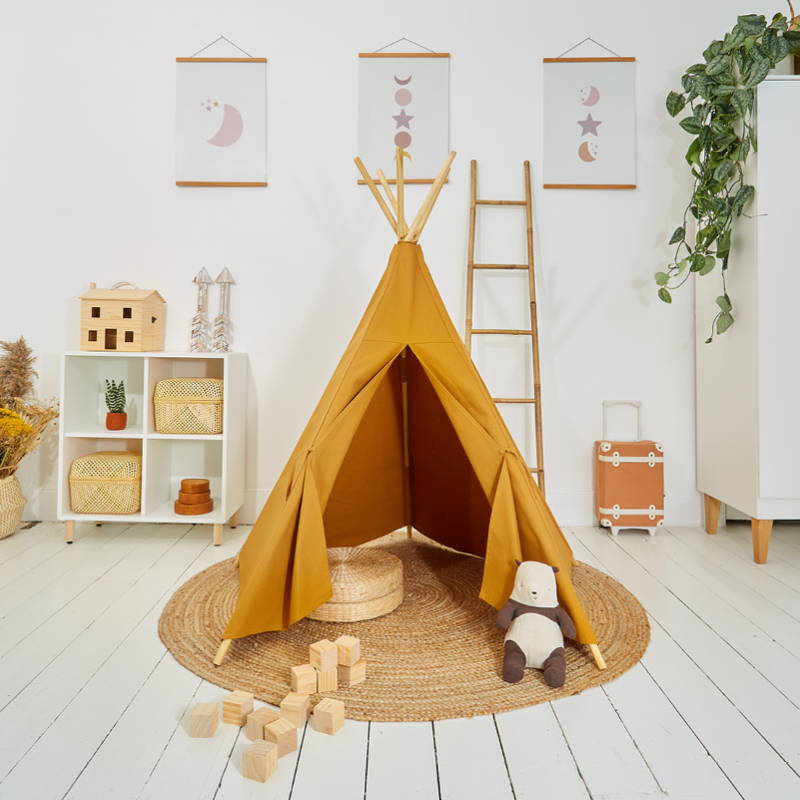 Similarly, encouraging role play in children can help develop language and communication skills, allow them to act out real life scenarios and express their feelings during imaginative play. Toy kitchens, shops, garages and doll houses are great ways for children to engage their imaginations and are worlds away from the plastic monstrosities of childhoods past. There are some beautiful, stylish and sustainable options available that will be loved for years such as this Little Dutch kitchen from Scandiborn.



Little Dutch Kitchen in Pink from Scandiborn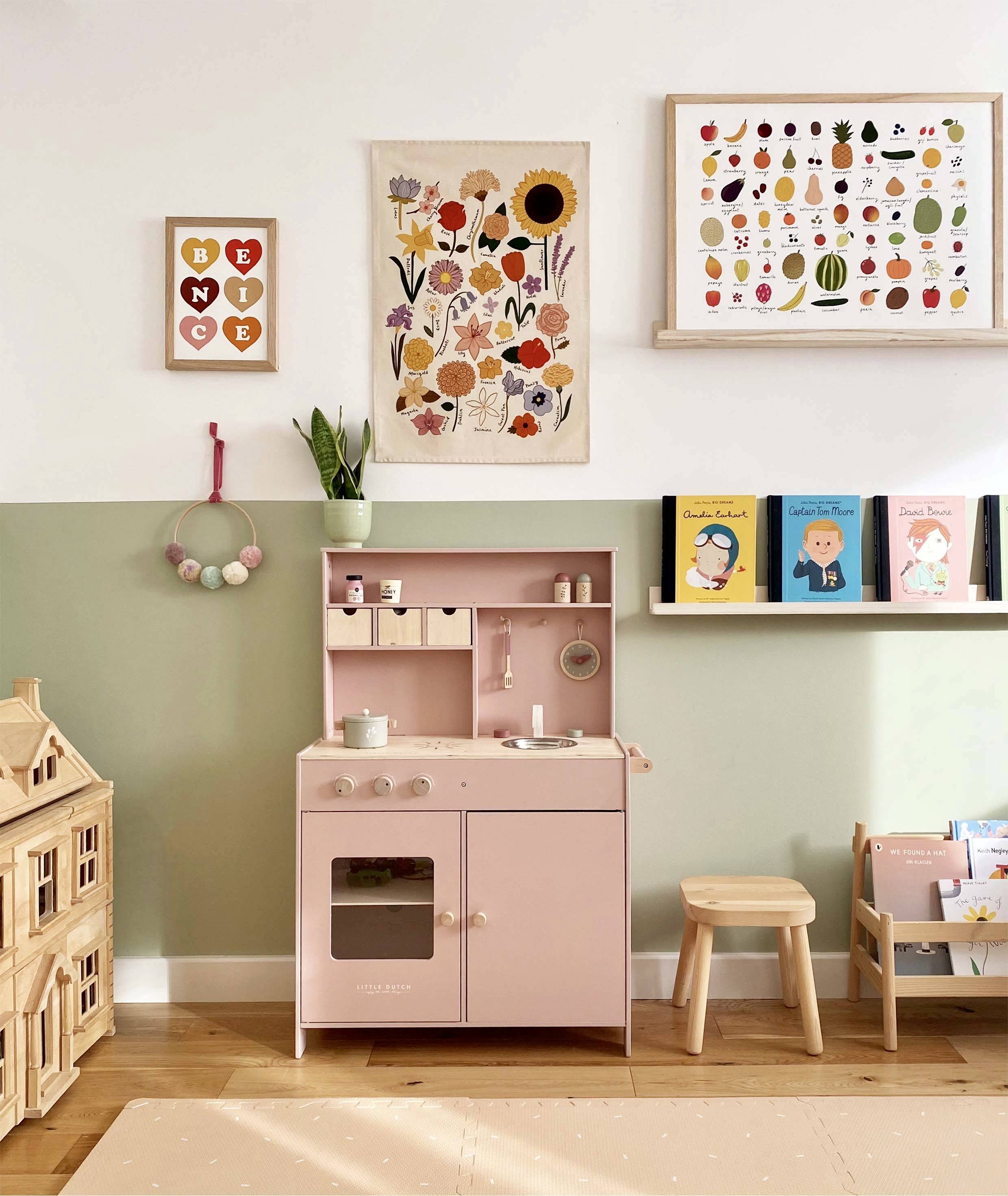 Wherever you choose to put your play area, I hope these ideas and links to small businesses I love will help you create a space that you can enjoy as much as your little one. If this has inspired you, I would love to hear all about it so please tag me in your efforts at #kidofthevillage

Thanks for reading and happy playing!